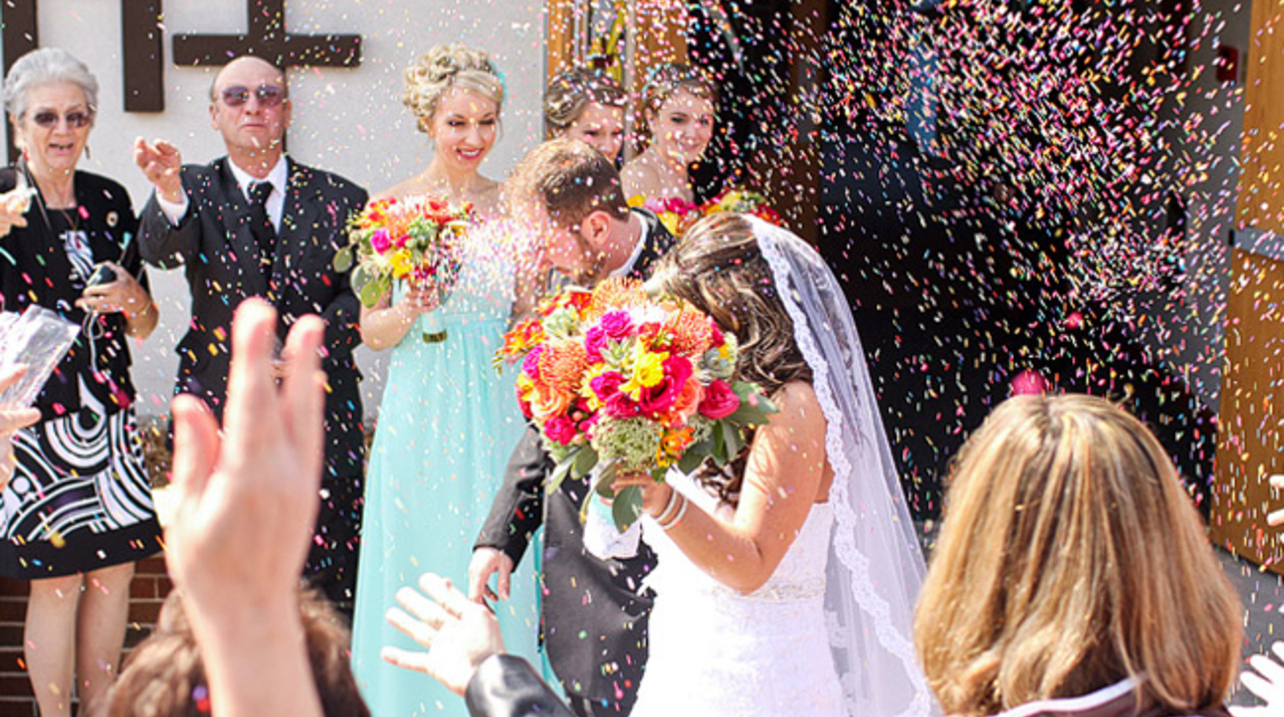 We've all seen the classic moment in the movies when the newlywed couple makes their exit from the chapel with doors flying open and doves flying everywhere. While that exact scenario may seem a little bit extreme, it's actually quite popular to make a dramatic exit after your wedding before you head to your reception venue. There are a number of great options out there that have been used by couples all over the US, but only a few have stood the test of time. Here are my four favorite wedding exit ideas so your first appearance to the world as husband and wife is an epic event.
Confetti
Confetti is a popular replacement for rice since it won't harm birds. Some people have used birdseed, but many venues won't allow that since it attracts birds to the area that may leave unsightly white splotches everywhere which can be troublesome to clean up. There are dozens of different types of confetti available in a plethora of various shapes and colors, so finding one that suits your taste should be easy. Many venues insist upon using biodegradable confetti instead of confetti that is made from plastic. Usually, it's made from recycled paper and will cost about the same as plastic confetti.
Doves
Though I poked a bit of fun wedding at the idea during the intro, releasing doves after your ceremony is a great way to make an impression. There are plenty of companies out there that offer doves that have been trained specifically for wedding exits. They can fly away as you open the doors to your chapel or venue, or you can release them into the air as a couple. Don't worry, though; the doves are very well-trained and will return to their handler in time for the next wedding.
Sparklers
Getting your guests involved by handing out sparklers is another fun wedding and simple way to spice up your exit. Just have your guests leave the ceremony venue first to line up with their lit wedding sparklers and then proceed out the doors as normal. If your venue is connected to your reception hall internally, you can even get wedding sparklers that you can use indoors for that type of situation. There's nothing more entertaining than getting your guests involved in different parts of your wedding, so giving them sparklers to use during your exits is an awesome option.
Entertainers
One incredibly outrageous, but definitely unforgettable, option is to hire entertainers or street performers for your grand exit. Perhaps you want to walk out of your wedding chapel with stilt walkers or fire breathers roaming about. Or maybe you love clowns or magicians and want one on hand to entertain your guests as make your exit. Hiring entertainers for your wedding exit isn't for everyone, but it will make for a very memorable experience.
Spicing up your wedding exit can add a lot of fun to your wedding day experience. Whether you choose something classic like wedding sparklers or confetti or you prefer something a little more unique like hiring an Elvis impersonator, doing something fun for your wedding exit will make the entire ceremony better.