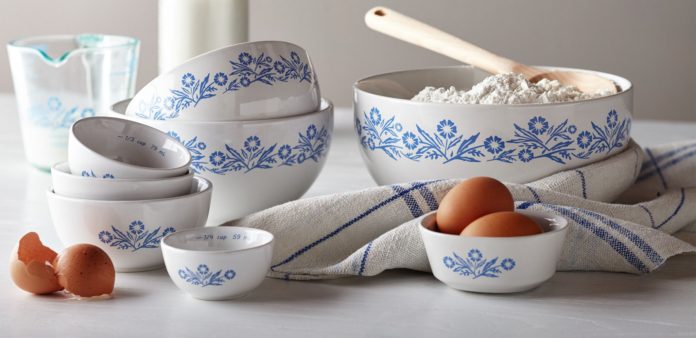 If you are the kind who loves everything vintage, then CorningWare is right up your alley. Now that they are back in stock it's time that you start baking all your grandma's favorite recipes because her dishes are now here again. CorningWare is celebrating 62 years of its existence, and you better believe us it was totally worth it!
So to know more about CorningWare, let's talk about their story:
You know it really needs time for something that has been considered out of circulation for a while to be then considered vintage and something you must own – Same is the case with CorningWare. In the year 1958 Corning Glassworks (that also manufactures our beloved Pyrex) introduced Corningware, and what was unique about it was that it was made out of glass-ceramic or Pyro Ceram which means they were resistant to any kind of heat impact. Their USP is the fact that they can be taken out of a refrigerator or a freezer and be instantaneously used on a stovetop, oven, or microwave and then served at your party as fancy serve ware — it could seemingly fit all occasions and needs. Did we also mention that post usage you could just take it and put it in the dishwasher to be cleaned?
Being the first of its kind in a stove-to-table kind of setting CorningWare products featured a blue cornflower pattern, which was created by Joseph Baum. This flower pattern eventually became the distinct marker of their products, and we swear to you that the spice boxes that sported this pattern looked so adorable. However, the original Pyro Ceram CorningWare was discontinued in the year 2000. The range was eventually relaunched as a line of stoneware-based bakeware in 2001.
The iconic cornflower print has now come up in brands like Corelle, which manufactures resilient glass dishware. Of course not all glassware products that feature the iconic design provide the same benefits as CorningWare, however, it does seem like the design has been resurrected these days. The original or OG as they like to see these days, that might have been owned by your grandmother, today, comes with quite a high price tag and serves as a collector's item. And how much is that you wondered let us just tell you that a not fairly widely produced serve ware in CorningWare has recently sold for $7000 in an eBay auction. A lot of old-timers today have definitely been doing a double-take when they see the familiar blue and white cornflower CorningWare pattern in the stores — of course, the nostalgia comes rushing in.
Its popularity is making it fly off shelves like it's the end of the world, so if you're thinking about getting some vintage love in your hands, now would be such a good time to do that. People who are up in the 70s and 80s can tell you the true meaning about owning a CorningWare, that in fact, it was a matter of pride to own them — and the one that we are sure your moms, in fact, everyone's mom had to be honest, now that era was truly a special one. With Corelle bringing back the iconic CorningWare blue cornflower pattern it is no surprise that it is rushing off the shelves. The fondest memories that you might've had about the simple yet elegant white and blue floral print that your mom used to serve delicious hot specialties in and of course where all the good leftovers were found at the end of the day when you were raiding the fridge. There is nothing that gets better than these memories of CorningWare.
When you think of your mom's favorite spice boxes that have memories of her seasoning whatever she was baking in the CorningWare, how the aromas would fill up your home and make your heart dance in delight. Be it special occasions or just because you asked her to bake something CorningWare will always have special memories in your heart like no other. So when thinking about iconic Corelle glassware that has been there for as long as you can remember CorningWare is the next thing that should come to your mind!