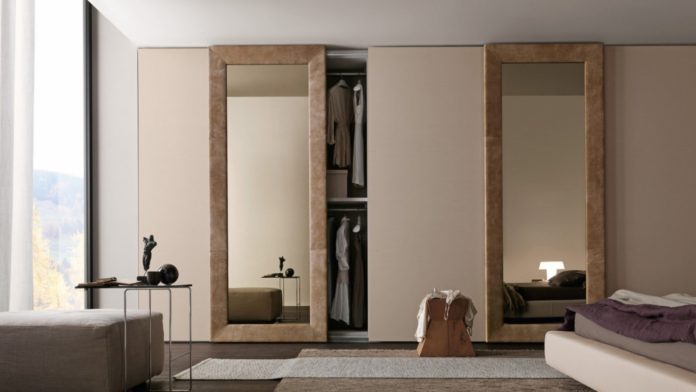 Sliding doors on a wardrobe can be hard to refurbish, especially if they are glass doors. However, this cannot be a limiting factor due to the availability of various alternative designs and add-ons that comes in handy without having to change the doors completely even if that can be an option too.
Some ways to re-invent sliding doors are:
Adding mirrors
You might think how this will be able to spice up your wardrobe doors. Well, having mirrors on your sliding doors creates a spacious impression in room and helps to brighten it up hence giving the room a much bigger feel.
Painting
Painting is a pretty creative way to re-decorate sliding doors because you play with color and patterns in any way you prefer to re-create a design. It might involve getting your hands a bit messy, but it is totally worthwhile at the end of the day.
Replacing with curtains
Replacing sliding doors with curtains can re-create the look and feel of a room and make it appear less formal. This idea is still trendy although it has been around for quite some time. They are more casual and add texture to a room and are also easily replaceable. Choosing simple solid colors or designs with a sheer touch gives the room a warmer appeal.
Changing handles
You must be wondering how this can give your sliding doors a facelift. Adding stylish door handles adds character thus lifting the appearance of a room. Moreover, it is time and cost effective, so why not?
Sophisticated squares
Patterned squares, preferably in a bold color (like bronze) create a sophisticated feel and add royalty to your room. It also adds depth and an artsy glamour to your space.
Other ways to re-invent your wardrobe with sliding doors include covering in wallpaper. This allows creativity and innovation in that wallpapers offer a variety of colors and patterns that aid in revamping sliding wardrobe doors. They're temporary and that as an advantage; it allows a switch up every now and then.
Disguising with film adds more style to the theme of a room to your desire. They are usually translucent, frosted or plain.
Chalkboards especially on the sliding doors of a child's room gives the room life and inspires creativity by having fun by writing on the chalk boards whilst learning.
Applying vinyl stickers adds excitement and creativity to a space.
Shoji screens translucent paper of Japanese architecture held together by wooden frames. They mostly come in handy when revamping a room.
If you want a completely different look in your room, then removing the sliding doors completely and leaving it open can be the option for you. Removing the sliding doors creates an office-like look and feel. It also helps to create a spacious visual and tidy look.
Sliding doors are an essential design element that can transform a standard wardrobe into the perfect in-built addition to your home.