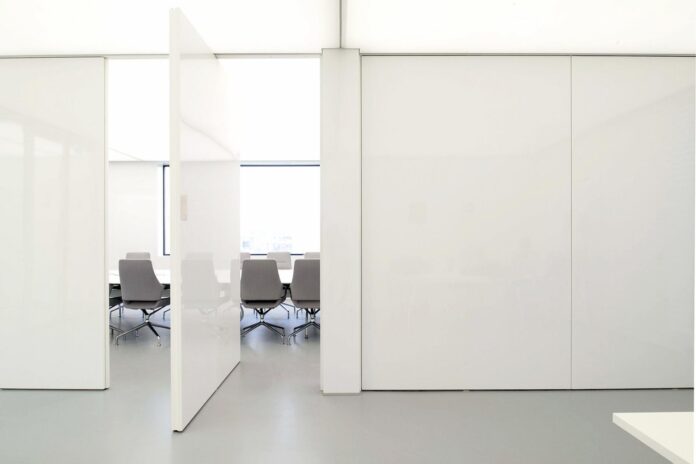 Create A Stylish First Impression In Your Hallway
Your hallway or lobby is often the first impression someone has of your home, so why not make it a good one? The space introduces your home and leads on to the rest of your home and different spaces, creating the ideal space for pivot door systems.
Installing a pivot door in this space can help to create a more open and welcoming space and a pivot door creates a seamless divide, able to open in both directions thanks to its vertical hinge – it will create an impressive first impression of your home and allow you to open and divide the space as you see fit.
An Opening Living Space On Your Terms
Many of us love the idea of an open-plan space, it makes a home feel larger and more welcoming, encouraging a social space. However, wouldn't it be great to have the best of both worlds? While a door can make two rooms feel very separate and cold, pivot door systems allow you to enjoy the best of both worlds.
A glass pivot door allows natural light to still flow through the two spaces while providing a divide when desired, such as when you're cooking or want some privacy. With a pivot door, you can make these two central rooms work around you – mixing between open and closed plans to suit your needs.
The same can be used between a kitchen and dining room or living space and dining space. A pivot door system provides a stylish divide that is practical and easy to open out or close to your needs – whether you're relaxing at home, entertaining guests, or want some privacy and peace.
A Functional Office Space
With more and more of us working from home or taking a hybrid approach to work, it has become increasingly important to have a functional working space in the home. Whether you have a dedicated office space or working area, as working from home becomes the norm, making this space functional is important.
For example, you could divide a space into a room to become a dedicated working space, such as an annex, under-stairs space, or section of an L-shaped room. Installing a pivot door system to divide the space creates a large glass wall that can be opened and closed as needed – providing privacy and quiet as needed for concentration, video calls, phone calls, and presentations.
Having this dedicated space can help create the divide between home and work and can be opened out or closed depending on your needs – an ideal compromise for those looking for a functional workspace in the home.
It could even be used as a wall divider between your living space and small office space, allowing you to open it out when not in use to help the room feel bigger.
To find out more about pivot door systems, visit Surbiton Glass.