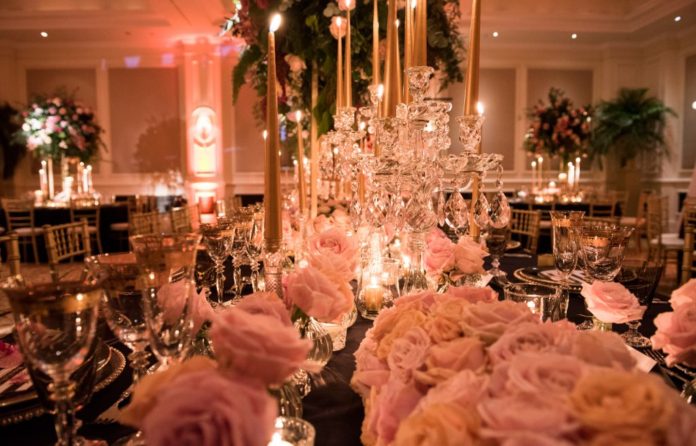 If you're looking to plan a traditional Asian wedding in the UK, then you're probably going to need a pretty large venue, with great authentic catering and preferably some experience handling similar wedding in the past.
Thankfully, you're in luck, as the UK is home to some amazing venues of all shapes and sizes and to suit all budgets.
With that in mind, here are some of our top tips for choosing an Asian wedding venue in the UK.
Capacity
Probably the most important thing to consider when choosing your Asian wedding venue is the capacity, especially as Asian weddings generally tend to have a lot of guests.
For this reason, it's probably best to opt for somewhere that's on the larger side, because having those two large families all cramped together in a small space is probably a bit of a recipe for disaster.
Be sure to work out a rough guest list fairly early in the process as this will help a lot when it comes to choosing the venue size.
This guide from Howerton Wooten Events is pretty helpful for estimating how big your venue will need to be.
Location
When it comes to location, accessibility is the key. This is especially true if you've got relatives travelling from a long way, or even from overseas.
While your perfect venue might be a fair distance from where you live, it's important to consider whether people are easily going to be able to get there and back, and if not, you might need to consider whether you're going to be able to offer accommodation so people can stay the night if they need to.
Staff
Finally, it's important to know about the staff and the arrangements at the venue before making any decisions.
Sonas Haute Couture have worked with thousands of couples on their big days and say: "Primarily, you want to make sure that venue and its staff have dealt with Asian weddings before.
"There are obviously going to be a lot of traditions and customs and it all takes a lot more organising than a Western wedding, so it's good to know that the venue can handle all of your requirements."
Catering
The same applies if the venue is going to be providing the catering for the event because it's important that the food is authentic and of the highest quality.
The venue should be able to provide you with specific and authentic Asian cuisine and that they'll be able to adhere to any religious requirements that you might have, such as ensuring all meat is halal.
If not, you might want to see whether the venue will allow you to use your own caterers and suppliers.
With these tips in mind, it's time to start your search for your dream wedding venue. To begin with, we'd recommend taking a look at this guide from Hitched, as well as the Asian Venue Guide, both of which are good resources to start your wedding planning.